28 Apr

The Tigress of Shaw Brothers: Top Three Kara Hui Roles

Kara Hui is an icon of Hong Kong cinema. Starting her career in the late 70s as a young actress for the Shaw Brothers studio and continuing to work at an impressive rate even today (with her latest film, the very much anticipated Mrs. K starting to make the rounds for critics), she handily became one of the most dynamic actresses in the industry and has won numerous awards and praise for her work. This includes winning the Hong Kong Film Award for Best Actress and Best Supporting Actress multiple times including the first one ever in 1982 where she won for My Young Auntie. As of late, Celestial Pictures has been releasing a series of interviews with the much-awarded actress about her career and time with the Shaw Brothers company. These interviews are heartfelt and earnest which only deepens one's appreciation for what she has accomplished in her life and, in particular, the roots of her feats in her early career.

Check out the remaining Exclusive Kara Hui Interview Video!

With rumors swirling from interviews that Kara Hui has been considering retiring sooner rather than later, a lot of written pieces that do small retrospectives on her career have been released and I thought it was high time that I threw my hat in the ring. For this piece, let's look back at some of the iconic roles (and perhaps underappreciated ones) that Kara Hui made into the instantly memorable moments that fans applaud today. In that mindset, here are my top three roles (and one honorable mention) that defines her contribution to the Shaw Brothers era.

HONORABLE MENTION: Chan Mei Ling (The Lady Is the Boss)
Starting her career with wuxia style films and finding a lot of momentum with Liu Chia-Liang's traditional blend of martial arts, I think her role in The Lady Is the Boss is important and one for fans to definitely see. Mostly because, due the film's more modern day setting, one gets to see her in a Shaw Brothers production outside of a period piece and she handles the transition well. The film is a colorful and often silly one, but once again she is a grounding point that is able to balance fun with emotional anchoring to be the hinge on what works in the film.
3. Wang Juying (Martial Club)
Too often Kara Hui had to take a back seat to many of her male counterparts in films, a complaint I have more often than not even in her best ones, but here in Martial Club she makes the most of her time onscreen. It helps that her character and the plot of the film give her a lot to work with in conjunction with the lead Gordon Liu, but she holds her own against his dynamic nature and fits in almost perfectly with Liu Chia-Liang's heartfelt approach to telling stories about the themes of martial arts. Not only that, but in a film like this she flourishes with the style of action too.
2. Yang 8th Sister (The 8 Diagram Pole Fighter)
Her work with Liu Chia-Liang is perhaps the best material and roles she was given at the Shaw Brothers studio and a film like 8 Diagram Pole Fighter is proof of this. While the film certainly features Gordon Liu as the main protagonist and a plethora of characters around him, Kara Hui's 8th Sister steals a lot of the moments in almost every scene she is in. Not to mention, in a film where the action sequences steal most of the glory, she has one of the best traditional style fights in the film that's fun and dizzying in choreography.
1. Jing Dai-Nan (My Young Auntie)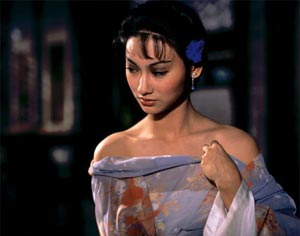 How could My Young Auntie not come in at the top spot on this list? As the titular figure of the film, she ably maneuvers around the dynamics of the character. She's charming, fierce, romantic, fun, and lively in the role, balancing the various things she needs to be as the center piece to hold the film together. She won her first Hong Kong Film Award for this role for a reason and it's one that she will always be remembered for. Even if the film is occasionally uneven with its tone, she grounds it in a way that makes it far more effective than the sort of gimmicky concept that it was attempting to sell. Easily her best role and most balanced performance for the Shaw Brothers.
As always this is just my opinion on my three favorite roles that Kara Hui had with the Shaw Brothers. She was in dozens of movies for the studio and all of them are strong, in one way or another, so this list could easily have many interchangeable parts. What are your favorite roles? Don't forget to check out these films and more of Kara Hui performances to find out which ones stick out the most to you.
---
Written by Matt L. Reifschneider the Founder/Writer/Lead Editor of Blood Brothers Film Reviews. Unapologetically cult. Follow him on Twitter.