23 Jun

Celestial Pictures' Shaw Brothers Top Ten Wuxia Films

Perhaps the most daunting aspect about the Shaw Brothers catalog is how ridiculously massive and impressively diverse it is. Martial arts films and their ilk were not the only genre that the studio dabbled in with their robust filming schedules and fast-paced release dates, but, considering we are just starting our Summer of the Sword celebration, we thought it would be nice to drive our watching queues into high gear by diving into one of the most prevalent niches of the Shaw Brothers studio: the wuxia film. The genre has been a part of Chinese cinema since the silent era, but the Shaw studio helped define the genre's look, tone, and feel for the modern era through skilled choreography and the pioneering use of wirework. The term "wuxia" is related to any form of Chinese writing, story, or film dedicated to the tales of 'sword-wielding chivalrous heroes,' and there are plenty of those to choose from in the Shaw catalog. Writer Will Kouf of Silver Emulsion Film Reviews and myself, Matt Reifschneider of Blood Brothers Film Reviews, have decided to tackle this massive genre together. We've whittled down our choices for the Top Ten Shaw Brothers Wuxia films and we hope it helps those looking to visit (or re-visit) the genre in celebration of the Summer of the Sword.

After much debate and the occasional half-hearted death threat, both Will and I came to conclude two things: a) this genre is much too diverse to be explored fully in just ten films, and b) there are so many great choices in this filmography that any list of ten will simply miss some of the classics. So treat this list as a launching pad for the Summer of the Sword celebration and not as a definitive greatest hits. Be sure to let us know what films you would have liked to see included and why. So without further ado, here are our picks for the Top Ten Shaw Brothers Wuxia Films!

10. The 14 Amazons (1972)

The 14 Amazons is jam-packed with everything you could want in a wuxia adventure. Canyon ambushes, nighttime raids, crafty strategy, cunning plans, intense fights… not to mention one of my favorite pieces of wuxia fantasy: the infamous human bridge! The 14 Amazons also boasts an excellent, well-told story, as exciting as it is fun. This is wuxia on an epic scale, dwarfing the scope of the average Shaw film. Lisa Lu won a Golden Horse award for her supporting performance, and the film also scored Best Director and Best Sound Recording awards. Cheng Kang made a slew of incredible films for the Shaw studio, and The 14 Amazons is easily one of his best. Also of note: this was the first choreography job for visionary director/choreographer Ching Siu-Tung, who also happens to be Cheng Kang's son!
Watch with Prime: http://amzn.to/2sZOTNA
09. Intimate Confessions of a Chinese Courtesan (1972)

As a genre, martial arts films are generally not taken seriously by the film community at large. While I understand this to a degree, the genre regularly produces unique experiences that transcend their genre roots. Intimate Confessions of a Chinese Courtesan does this exceptionally well, bringing together disparate elements of trash and art to achieve one of the most emotional and ambitious films of Chor Yuen's career. It's part wuxia, part rape/revenge, part prostitution melodrama, part exploitation, part mystery, and part cat-and-mouse thriller, and it does all of this simultaneously and perfectly. Intimate Confessions of a Chinese Courtesan is a true work of art.
08. Bastard Swordsman (1983)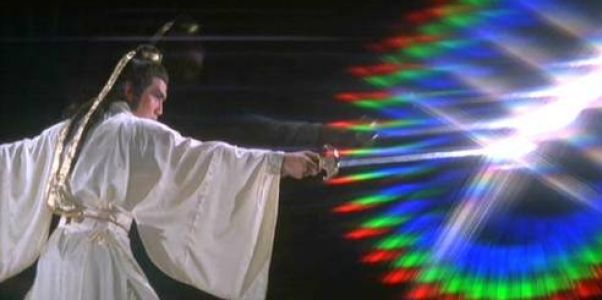 If you asked fans what words come to mind to describe Bastard Swordsman, I imagine that "insane," "ridiculous," and "awesome" would rank fairly high. This movie is indeed all of those things, and many, many more. The wuxia films of the 1980s are much more fantasy-based than their '70s predecessors (thanks to the advancement of special effects), and it's these fantasy elements that propel Bastard Swordsman to a spot on this list. The action is a superb barrage of technique, skill and insanity that ranges from what is probably the greatest scene to involve a sword and a book, to what is probably the greatest scene involving a silkworm cocoon. Bastard Swordsman is wuxia cranked up to 11, and it's one of my all-time favorite Shaw Brothers films.
Watch with Prime: http://amzn.to/2sZOJWu
07. The New One-Armed Swordsman (1971)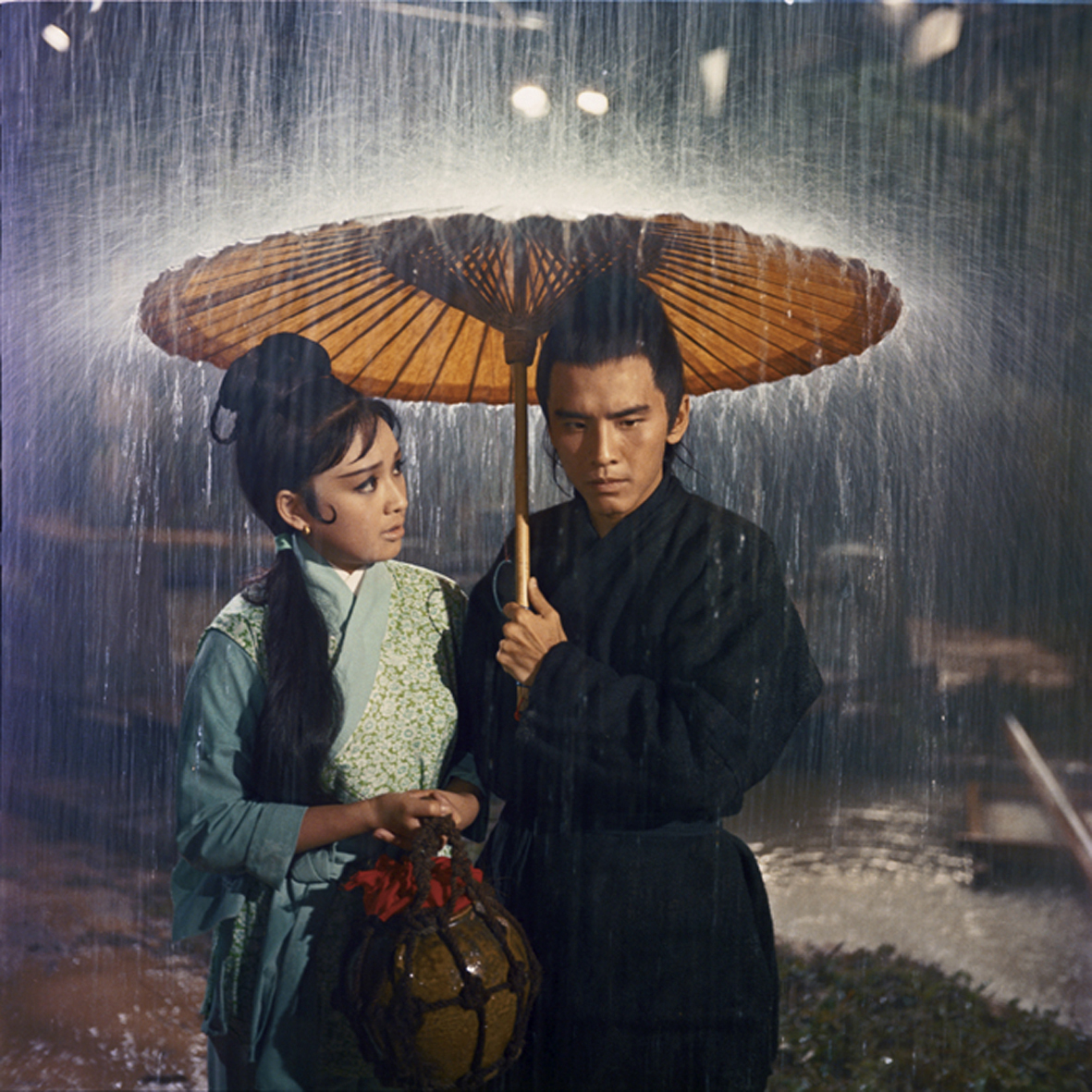 Although it's considered part of the One-Armed Swordsman trilogy, this third film acts as a sort of reboot for the concept behind the original. What makes this one of the best wuxia made by the Shaw Brothers studio is how it takes the same basic idea — that our hero is humbled by the loss of his arm and thrown into a crisis of identity — and wraps it up in completely new characters with much different intentions. Powered by a handful of impressive performances, anchored by the charm of David Chiang and featuring a phenomenal secondary role for Ti Lung, the film uses its robust character build to deliver plenty of emotional set-ups and action-packed scenes. The best wuxia films make the audience care about the characters and the consequences of their actions, and The New One-Armed Swordsman does this phenomenally well.
Watch with Prime: http://amzn.to/2s4zDuP
06. Killer Constable
It wasn't too long ago that I wrote a piece for this site about how Killer Constable was an unsung classic of the genre, so I'm pleasantly surprised that it made this list. Not that it doesn't deserve to; it has truly been overlooked far too many times in favor of more foundational wuxia films. What makes this one so unique is that director Kuei Chih-Hung, generally known for his horror films, approaches the material in a much darker and dynamic manner than a traditional wuxia. His use of visual camera tricks and a lead character that's steadfast as an anti-hero sets this one aside from its peers. It has a winding narrative and uses tons of symbolic elements to deliver its thrills, kills, and emotional spills, and remains one film that I will repeatedly revisit. It might be more of a wildcard selection for a list about the Shaw Brothers' best wuxia films, but I wholeheartedly believe it deserves to be on this list.
Watch with Prime: http://amzn.to/2rLqJ5W
05. Death Duel
Death Duel is another wuxia film that tends to be overlooked, but with the release of its 2016 remake, Sword Master (directed by the star of this film, Derek Yee), there has been more attention thrown its way. Chor Yuen ruled the wuxia genre for much of the mid-to-late '70s with his over-the-top style and gimmicky approach to characters, but Death Duel represents one of his more balanced efforts. It achieves this by digging deep into its offbeat characters and the role that pressure and fame plays on their egos. It has a classic epic tone that features some slick swordplay and even a bit of hand-to-hand combat is built into the lead character's personal journey. It moves swiftly in its narrative and takes some perplexing shifts at times, but this is what makes Death Duel such a memorable and dynamic watch.
04. The Black Tavern
The Black Tavern, a sort-of sequel to Ho Meng-Hua's The Lady Hermit, represents one of the most different approaches to wuxia in the entire Shaw catalog. It is something of a variation on King Hu's Dragon Inn, but it subverts your expectations at every turn. If wuxia is traditionally defined as stories of chivalrous heroes, then The Black Tavern is an example of the anti-wuxia, where nearly the entire film is populated by devious villains. Yes, it's as fun as it sounds. Add in a fantastic performance from Ku Feng and Grade-A choreography from Simon Chui Yee-Ang and Chui Chung-Hok and we have ourselves another overlooked classic. The Black Tavern demands the attention of any self-respecting kung fu fan!
03. The Avenging Eagle
Director Sun Chung was not one of the most prolific directors in the Shaw Brothers fold, but all of his films represent some of the studio's best material of the period. His best, though? It's definitely the highly entertaining and heartfelt film The Avenging Eagle, which focuses on two wayward heroes bonded by their quest to take down a vicious assassin's clan. There are three major reasons for its inclusion so highly on this list. Firstly, Ti Lung and Alexander Fu Sheng share impeccable chemistry together that adds a lot of fun, emotion, and power to their character's motives. Secondly, the film has one of the most cohesively effective approaches to wuxia narrative that never drags and never regurgitates exposition. And lastly, the finale that features Ti Lung and Fu Sheng battling a white-haired and golden-eagle-clawed Ku Feng might be one of my favorite action sequences ever in a wuxia. As a bonus, it also features perhaps one of the greatest final moments to ever end a Shaw Brothers film. If you haven't seen it, I highly suggest getting your Avenging Eagle on.
Watch with Prime: http://amzn.to/2t3QAKq
02. Come Drink with Me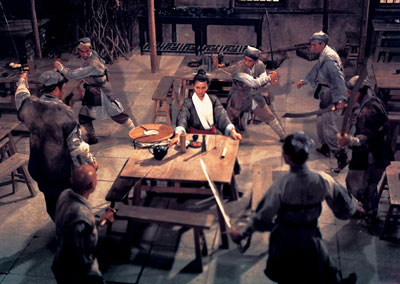 Come Drink With Me is one of the most notable wuxia films of all time, Shaw Brothers or otherwise. It was the first great film of the genre produced by the Shaw studio, influencing countless others in its wake. Besides that, it's just a fantastic piece of entertainment that continues to thrill, carried by Cheng Pei-Pei's ferocious, star-making performance. This was the first martial arts film from director King Hu, and the fact that it remains a genre-defining classic says a lot about his command over the medium of film. He perfectly marries wuxia storytelling with the Japanese samurai film to create a template that many future films attempted to emulate (with varying degrees of success).
Watch with Prime: http://amzn.to/2t43UhW
01. The One-Armed Swordsman
The top two choices for our list were kind of a toss-up in my opinion, as both represent early classics of the wuxia genre that launched the careers of a multitude of impactful artists, but ultimately The One-Armed Swordsman won out. Not only was it the first film to bag HK$1 million at the box office for the Shaw Brothers, it cemented Chang Cheh and Jimmy Wang Yu as cultural and cinematic icons who remain relevant to this day. The true angle that makes this film our #1 choice, though, is that it represents the first (and perhaps best?) balance of all things wuxia and Shaw Brothers. It's gimmicky, but it all has meaning. It's epic, but without losing the intimate character progressions. It's violent, but it adds to the action and dramatic beats of the film. It's heartfelt, but never feels melodramatic. This film is so efficient and effective that it instantly created an international star out of Jimmy Wang Yu, and its universally relevant story and/or concept has been remade/rebooted a multitude of times. Not only is the film near perfection, it has stood the test of time and remained as relevant as either its star or director. It's this lasting effect that makes The One-Armed Swordsman our pick for the best wuxia film from the Shaw Brothers studio.
Watch with Prime: http://amzn.to/2sZMbrw 
---
Written by the Will Kouf. Go follow him on Twitter and make sure to check out his site Silver Emulsion Film Reviews
Written by Matt L. Reifschneider the Founder/Writer/Lead Editor of Blood Brothers Film Reviews. Unapologetically cult. Follow him on Twitter.